About Us
Welcome to my little hideaway where you'll find quality items at very affordable prices. If you're looking for a fast, friendly & professional service, then you've come to the right place! I believe in good old fashioned customer service and posting items the same day or within 24 hours* is always a priority.
All of my products are from a smoke free environment.
Why Nutrimetics? I've been using Nutrimetics products for 32 years. I've tried other brands but have always found it difficult to find products that suit my skin. I alternate my moisturiser twice a year. In winter I find keeping warm tends to dry my skin out so I use a richer moisturiser to combat the dryness. During summer I like to use a light moisturiser so that my skin can breathe. Everyone is different and finding the right products for your skin can make all the difference. A good quality moisturiser will make wrinkles a thing of the past!
For over 14 years, I've sold predominantly through my website as well as using Quicksales.com.au (quicksales has since closed down) and Facebook. The picture below was my feedback rating from Quicksales.com.au. I was a verified seller and provided Quicksales with 6 forms of identification. I sold over 3800 items, had 100% positive feedback from over 1100 happy buyers, so please feel at ease and buy with confidence!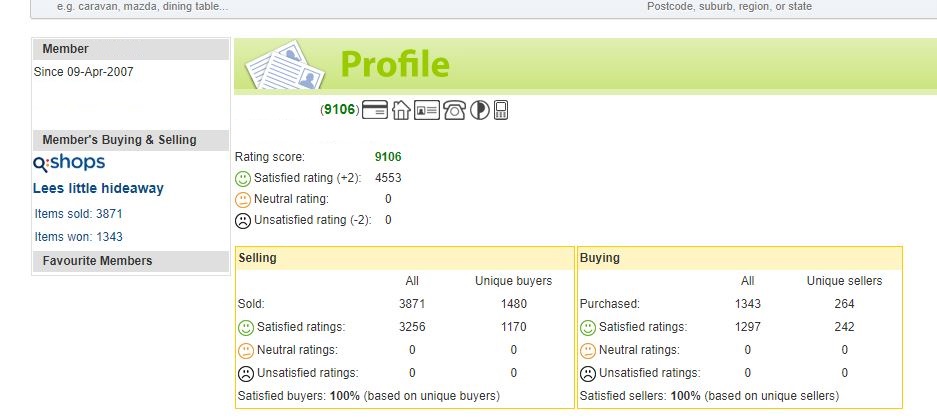 Sign up to my mailing list to enjoy bonuses, tips and rewards. It's free and you can cancel at any time.
COVID19 update - We understand this is an unprecedented and challenging time for our customers.
Lee's Little Hideaway remains fully operational, although with extra health measures in place. We are taking every precaution and following all current advice from the Australian Government and health officials to keep our customers and community safe – and we will continue to do so. We will update our website with any changes to our current operations. Australia Post Delivery times to both Australia and overseas have increased due to COVID-19. Please take this into account when tracking your order as parcels are taking anywhere between 5 working days and in some instances for overseas airmail 40+ working days. If you'd like your parcel a little quicker, please opt for Express Post.

Australian & International Post Rates Unsure what it'll cost for postage/shipping?
Each product has 'Calculate Shipping'. You simply choose the quantity you require, use the drop down menu to select your country and enter your postcode. Click on 'Calculate' and the postage options relating to your delivery address will be displayed. Please note: Delivery times are linked directly through Australia Post and are updated daily. These are estimates only and each enquiry is calculated using the current date & time.

Ocasionally our postie or Post Office are running behind schedule and may forget to scan parcels. This isn't something that happens very often, but it does sometimes happen. In the unfortunate event of this happening, please rest assured that at some stage a Post Office along the way will scan the parcel. I do apologise for any inconvenience that this may cause.
* Please note: Our shipping charge for your order does not include any possible taxes and duties which may be applied by customs in the country where the order is to be delivered. The responsibility for any customs duties, foreign taxes or any other fees which may be imposed, will rest solely with the customer.
Can't find what you're looking for? Perhaps you're after something unique or hard to come by.
Favourite requests have been Tim tams, Vegemite, chocolate, shaving crème, lollies (candy) just to name a few. I'm always happy to let my fingers/legs do the walking for you and as you can see, it doesn't have to be Nutrimetics! Use the "Contact Us" link located at the bottom of the page to send in your request.
Reviews can now be added to any product in my store. All buyers are invited to "Write a product review". The link can be found beside the product title (you'll need to click on the product first). Just follow the prompts, complete your details and add a review, choose how many stars, then click preview. You can now check your review and edit if required, or simply "Post Review".
Or you can add a Google Review https://g.page/LeesLittleHideaway/review
Your reviews are very much appreciated, not only by me, but to other customers as well. Each review helps build customer confidence and trust in my business.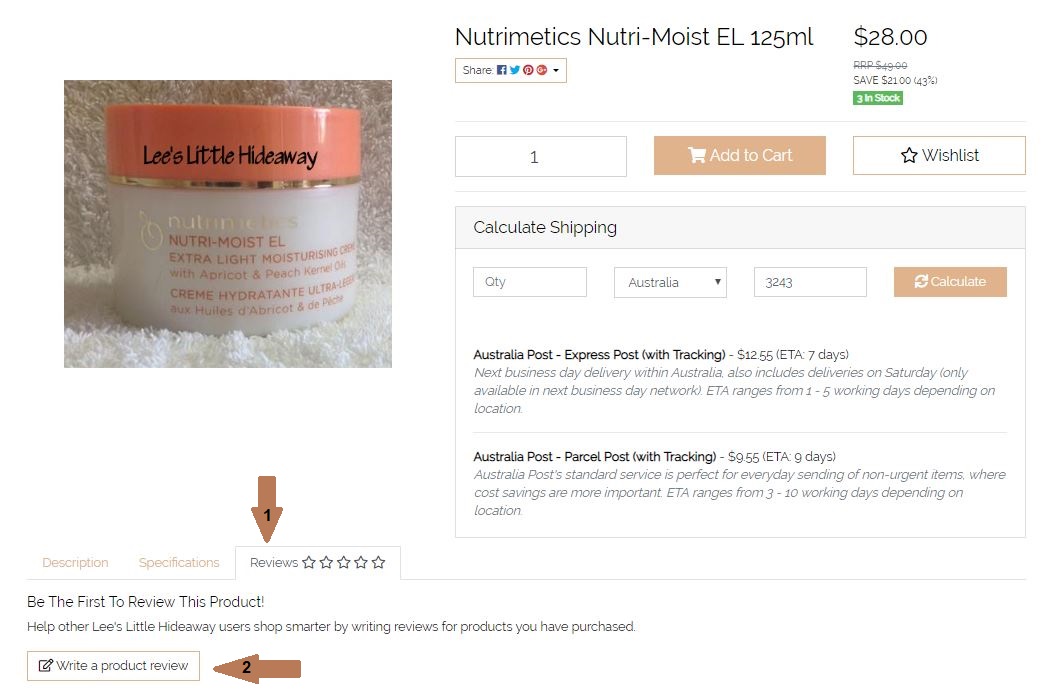 Thank you for stopping by. I hope that you have enjoyed your browsing experience. By supporting my store, you are supporting a small local business in country Victoria, Australia.
* (weekends and public holidays not included).